Bodies move about and are heard. There is whispering, turning upside down, meowing, running in and out of the vertical concrete lines, disruptive subjects inherit European avant-garde Dada as they encounter the brutalist architecture, and reveal its structure and materiality, as a utopian vision.
Entitled 'Paper Tiger Whisky Soap Theatre (Dada Nice)' the exhibition draws a link between jazz scat (a jazz vocal style created at the turn of the twentieth century in the United States, that favours rhythm and phonetics over the meaning of words) and the legacy of the avant-garde movement Dada, whose first multidisciplinary and anti-art event occurred exactly a century ago (on 7 February 1916) in Zurich at the Cabaret Voltaire, opened by Hugo Ball.
This dialogue is a continuation of Sonia Boyce's work with vocal performers for 'Exquisite Cacophony', a video that was featured at the 2015 Venice Biennale.
For Sonia Boyce, jazz scat and Dada fulfil an identical function in the avant-garde, that of facing a major "social trauma" (see the filmed conversation with Sonia Boyce): the trauma of slavery, the rise of fascism, wars in Europe, and then the economic crisis framing the period between the two world wars. Both gave rise to spontaneous, impromptu gestures. The uproar, the frenzy and the noise of bodies clamoured against war and condemned attempts at an academic formalism. From this legacy of defying the hegemonic discourse, artists created the conditions for the sudden birth of a shared language. This system of dissenting signs, revealed by the practice of improvisation, acts as a signal inscribed in the nonsensical.
A proponent of collaborative practices, during her autumn 2015 residency, Sonia Boyce brought together choreographer Vânia Gala, hip-hop singer Astronautalis and students of the art school for an improvisation workshop built around the architecture of the Villa Arson. Filmed by a crew directed by Michelle Tofi, the visual and sound elements resulting from this participatory performance are shown in the Galerie Carrée in an installation that includes videos, drawings and wallpaper. The composite and autonomous videos participate in breaking up any attempt at a story in favour of situations. Their running time never exceeds that of the projected video 'The Circle' (18 minutes). Beginning with the repetitive words 'Paper Tiger Whisky Soap Theatre' it creates the impetus for the entire sound and rhythm.
One of the characteristics of Sonia Boyce's approach is an inclusive framing that reveals the shooting team.
In this way her work does not document the performances as much as it reveals what is at stake today when capturing reality through an image, or reveals the various ways of seeing encouraged by the specific installation and the screening of images (John Berger, 'Ways of Seeing', 1972). The framing also implicates other onlookers or 'actors' inside the image, for example the spectator and the passer-by. Although the spectator has agreed to be there, the passer-by might unwittingly be made to feel uncomfortable. Thus the visitor to the installation finds herself/himself involved in a game of enunciated situations where she/he has to choose between laughter and unease.
At the heart of Sonia Boyce's work, it might be said, are questions about the production and reception of unexpected gestures. Particularly when it questions the nature of laughter, a locus for worry, fear and joy emanating from the gap or distance between the subject and a norm that might be considered obvious.
Sophie Orlando
Curator of the exhibition, art historian, researcher and associated professor at Villa Arson. She has been developing research on British Black Art since 2006.
Sonia Boyce (born in 1962) came to prominence in the early 1980s as a key figure in the burgeoning Black-British art-scene of that time – becoming one of the youngest artists of her generation to have her work purchased by Tate, with paintings that spoke about racial identity and gender in Britain.
Her works have subsequently been purchased by several public collections. Since the 1990s, Boyce's practice has taken a more multimedia and improvisational turn by bringing people together to speak or sing about the past and the present.
Since 1983, Boyce has exhibited extensively throughout the UK and internationally. An abbreviated account of exhibitions and monographs include: 'Sonia Boyce: Speaking in Tongues' (Gilane Tawadros, Kala Press, 1997); 'Annotations 2/Sonia Boyce: Performance' (Mark Crinson, Iniva – the Institute of International Visual Arts, 1998); 'Video Positive: the other side of zero', Bluecoat Gallery, Liverpool (2000); 'Recent Sonia Boyce: la, la, la', Reed College, Portland-Oregon (2001); 'Century City: art and culture in the modern metropolis', Tate Modern, London (2001); 'Sharjah International Biennial 7', Sharjah, United Arab Emirates (2005); 'Devotional', National Portrait Gallery, London (2007); 'Crop Over', Harewood House, Leeds and Barbados Museum & Historical Society (2007/2008); 'For you, only you' (Paul Bonaventura, Ruskin School of Drawing & Fine Art, Oxford University and tour, 2007/2008); 'Praxis: Art in Times of Uncertainty', Thessaloniki Biennial 2, Greece (2009); 'Like Love', Spike Island, Bristol and tour (Green Box Press, Berlin, 2010); 'Afro Modern', Tate Liverpool and tour (2010); 'The Impossible Community', Moscow Museum of Modern Art (2011); 'Play! Recapturing the Radical Imagination', Göteborg International Biennial of Contemporary Art 7 (2013); and, 'All the World's Futures', 56th Venice Biennale (2015).
In 2007, David A Bailey, Ian Baucom and Sonia Boyce jointly received the History of British Art Book Prize (USA) for the edited volume 'Shades of Black: Assembling Black Art in 1980s Britain', published by Duke University Press in collaboration with Iniva – the Institute of International Visual Arts, and AAVAA – the African & Asian Visual Artists Archive. In the same year she was awarded an MBE in the Queen's Birthday Honours List, for her services to art. Boyce has recently completed an Arts and Humanities Research Council (AHRC) Research Fellowship at Wimbledon College of Arts, University of the Arts London (UAL) with her concluding research project 'The Future is Social'. She is currently Professor of Fine Art at Middlesex University, in the School of Art & Design, Chair of Black Art & Design across the six colleges of UAL, and Principal Investigator for the AHRC-funded project 'Black Artists & Modernism' (UAL/Middlesex University, London).
Curator, Okwui Enwezor invited Sonia Boyce as one of the artists for the 56th Venice Biennale, where she presented 'Exquisite Cacophony' (2015).
Charles Andrew Bothwell (born in 1981), better known by his stage name Astronautalis, is an American alternative hip-hop artists currently based in Minneapolis, Minnesota.
After gaining some recognition in local circles in Jacksonville, Florida and competing at Scribble Jam, Astronautalis self-released his debut album, You and Yer Good Ideas, in 2003. He eventually signed with Fighting Records and the record was re-released in 2005, followed by his second album, The Mighty Ocean and Nine Dark Theaters, in 2006. He released the third album, Pomegranate, on Eyeball Records in 2008. In winter 2009, he toured with the Canadian indie rock band Tegan and Sara through Europe, and supported them again through the spring of 2010 in Australia. His fourth album, This Is Our Science, was released on Fake Four Inc. in 2011. He is a descendant of James Hepburn, 4th Earl of Bothwell, which is one of the reasons why his lyrics often deal with historical fiction. Andy has worked with Sonia Boyce on a previous performance-based project called  Exquisite Cacophony with the vocalist Elaine Mitchener (2015).
Michelle Tofi graduated from London Metropolitan University with a first class honours degree in Film and Broadcast Production in 2011. Since then she has specialised in cinematography and self-shooting, having content she shot for BBC Worldwide screened in 76 million homes across the globe, and travelling to shoot in France, Sweden, Turkey, Saudi Arabia, Dubai, Abu Dhabi, Bahrain and Qatar. Her corporate clients have included Ray-Ban, the Gaurdian, YouTube and Adidas although her passion is for fiction and art filmmaking, and she has collaborated extensively with artist Sonia Boyce, MBE on three video projects. Michelle is also keenly interested in documentary work, and is currently producing her first feature length documentary, "Drag it Out in the Open ».
Richard Thomas is a Sound Recordist and Musician.  He'll record most sounds (within reason) and a number of them have been featured on TV, film and videos on the internet  (some feature cats).  He will sometimes make noises (sometimes under duress).  He has been accused of making Art before.  His favourite cake is Battenburg.  He regularly refers to himself in the third person.
Vânia Gala (born in 1972) is a choreographer and researcher. She holds a BA in Dance from the European Dance Development Center, Hogeschool voor Kunst-Arnhem (Netherlands), and a MAC with Distinction from Trinity Laban Conservatoire of Music and Dance. Since 2015, she is a PhD candidate at Kingston University, having been awarded a FASS studentship. Gala's choreographies, scores and performance-lectures explore the potential of absence (and the non-human) through acts of withdrawal, auscultation procedures and acts of attending to invisible things and systems as central players of the performance. Her choreographical work 'Automatic Id' (AID) has been performed since its premiere in Angola in Portugal, Norway, Germany, Ireland, the UK and the Russian Federation. In 2005, (AID) was awarded the "Best Female Performance" at the Dublin Fringe Festival, was part of Aerowaves Festival (London) and the 1st Triennial of Luanda (Angola). In 2007, she performed at the 1st African Pavilion at the Venice Biennale. 'MiamiLuanda' premiered at Teatro Académico Gil Vicente (2009) and was presented at the Portuguese Platform for Performative Arts 09', curated by Rui Horta. 8˚ 10' 30" was performed at TAGV and at Centro Cultural de Belém (2010). Recent collaborations in the visual arts includes working with Sonia Boyce in 'Dance of Belém' (2010) at the Centro Cultural de Belém, curated by Paul Goodwin (Tate), and subsequently presented at Georgia Scherman Projects, Toronto (2012). Also in 2012, she created 'Invited Guests', performed at Bonnie Bird Theatre. More recent projects include 'Cooling Down Signs', a Pan-European commission by Beyond Front@ performed at Dance Week Festival, Zagreb (HR), D. I. D (AT), Front@ Festival (SI), Bakelit (HU) and '35 Days of Nothing to Say', an ongoing research project performed at The Place and Dance 4 (UK). Her writings are featured in 'Emergency Index' and in the Angolan Pavilion catalogue for the 56th Venice Biennale (2015).
March 3rd – 4th 2016 : meeting & interventions related with the exhibition
Ce programme pour tous les publics a pour objectif d'appréhender le travail de Sonia Boyce dans ses enjeux artistiques, contextuels et historiques, à travers les interventions de commissaires, historiens de l'art, critiques d'art, et performers.
Il propose une réflexion sur les gestes dansés et le mouvement au sein de Dada, une analyse des filiations entre les scènes jazz, les artistes fluxus et les artistes contemporains, et discute le point de vue des artistes sur l'écriture curatoriale actuelle de l'histoire coloniale.
Jeudi 3 mars :
14h, ouverture par Jean-Pierre Simon, directeur de la Villa Arson
14h15, introduction par Sophie Orlando, historienne de l'art et commissaire de l'exposition
14h45, Sonia Boyce, artiste : « In the process, someone became a cat and another became a seal »
15h30, Cécile Bargues, historienne de l'art : « Dada, la danse, le fantôme »
17h, Bonaventure Soh Bejeng Ndikung, commissaire d'expositions : « Looking at Akinbode Akinbiyi and Ben Patterson to Answer Curtis Mayfield's Calls in We the People Who Are Darker Than Blue »
17h30, Lotte Arndt, critique : « Connexions transcontinentales et transhistoriques : Sammy Baloji »
19h, Film : Reece Auguiste, Twilight City, 52 min, 1989. Black Audio Film Collective.
Présentation du film par Sophie Orlando. en partenariat avec L'ECLAT
Vendredi 4 mars :
14h, 14h30 et 15h, Performance : Latifa Laâbissi performe « Samouraï » (5′) et « Phasme » (9′)
(3 fois dans l'après midi)
Programme détaillé des 3 et 4 mars à télécharger
Interventions en français et en anglais
Entrée libre
Cette bibliographie succincte présente quelques clés de lecture de l'exposition Paper Tiger Whisky Soap Theatre.
Artificial Hells de Claire Bichop permet d'inscrire la pratique collaborative de l'artiste au sein d'une filiation artistique héritière de l'avant-garde dada, au situationnisme, au happening jusqu'au renouvellement des pratiques participatives autour de 1990 à partir d'un retour de l'espace social au sein du modernisme européen.
Gilane Tawadros, Mark Crimson, Sophie Orlando offrent des outils de compréhension du travail de Sonia Boyce, à la fois dans sa pratique de la peinture et du dessin des années 1980, tout comme dans sa pratique performative développée à partir des années 1990.
La lecture de l'ouvrage Ways of Seing de John Berger rappelle combien l'image artistique est médiée par son mode de présentation (curatorial, ou discursif) et invite
à analyser le rôle prépondérant du cadrage de l'image dans l'installation de Sonia Boyce par la grille du papier peint, la présentation physique sur moniteur ou sur écran projeté.
D'autres références accompagnent le croisement entre le Jazz Scat et Dada, convoqué par l'artiste, et situent l'apport des Cultural Studies et des Black Feminist Studies, dans sa lecture de l'espace de représentation.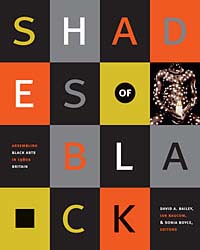 David  A. Bailey, Sonia Boyce, Ian Baucom (ed.),
Shades of Black: Assembling Black Arts in 1980s Britain,
2005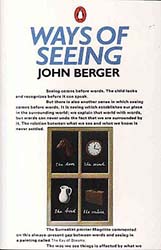 John Berger,
Ways of Seing,
Penguin, 1972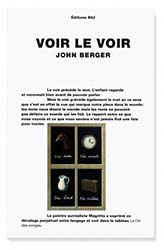 John Berger,
Voir le voir
, B42, 2014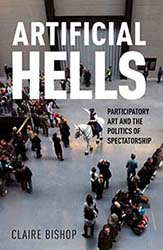 Claire Bichop,
Artificial Hells, Participatory and the Politics of Spectatorship
, Verso, 2012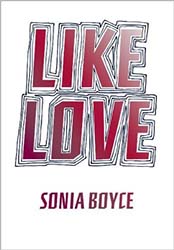 Sonia Boyce,
Like Love
, The Green Box, 2010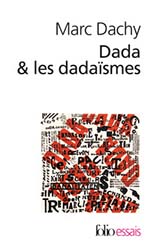 Marc Dachy,
Dada et les dadaïsmes,
Folio, 2011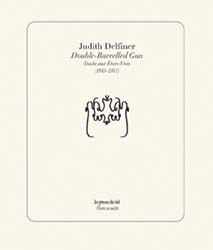 Judith Delfiner, Double-Barrelled Gun –Dada aux Etats-Unis (1945-1957),
Les presses du réel,
2011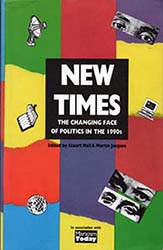 Stuart Hall et Jacques Martin,
New Times, The Changing Face of Politics in the 1990s,
Lawrence & Wishart, 1989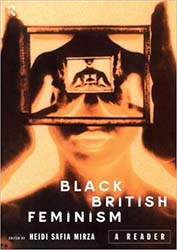 Heidi Safia Mirza (ed.),
Black British Feminism, A Reader
, Routledge, 1997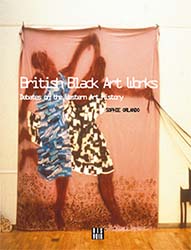 Sophie Orlando,
British Black Art, Debates on the Western Art History,
Dis Voir, 2016
À paraître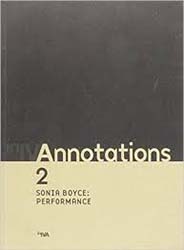 Nikos Papastergiadis
, inIVAnnotations: Sonia Boyce – Performance No. 2, The Institute of International Visual Art (INIVA), 
1998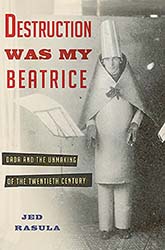 Jed Rasula,
Destruction was my Beatrice,
Dada and the Unmaking of the Twenthieth Century, Basic Books, 2015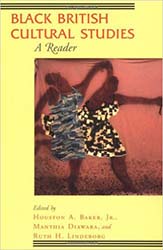 Gilane Tawadros, « Beyond the Boundary, The Work of Three Black Women Artists in Britain », dans Houston A. Backer, Mantha Diawara et Ruth H. Lindeborg (éds.),
Black British Cultural Studies, A reader
, University of Chicago Press, 1996, p. 240-277.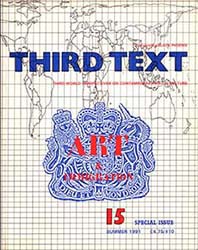 Gilane Tawadros, « Black women in Britain, A personal and Intellectual Journey », dans
Third Text
, n° 15, 1991, p. 71-76.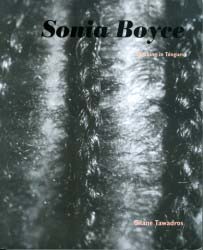 Gilane Tawadros,
Sonia Boyce
,
Speaking in Tongues,
Kala Press, 1997
Participants
Sonia Boyce Team
Sonia Boyce
Directrice artistique / Artistic Director
Vânia Gala
Performer
Andy Bothwell (Astronautalis)
Performer
Alice Labant
Performer
Michelle Tofi
Directrice de la photographie / Director of Photography
Richard Thomas
Ingénieur du son / Sound Recordist
Basak Bayhan
Second assistant caméra / Second Camera Person
Joe Stone
Troisième assistant caméra / Third Camera Person
Jessica Taylor
Assistante de production / Production Assistant
Maya Bailey
Photographe / Stills Photographer
Villa Arson Students
Sharon Alfassi
Claudio Arnell
Clarisse Charlot-Buon
Johan Christ-Bertrand
Felicia Cleveland-Stevens
Anne-Sophie Duforets
Coline Dupuis
Daisy Gray
Mariana Guedes
Marja Heiskanen
Dong Eeg Kim
Sori Kim
Louis Kiock
Néle Lavant
Paul Lemaire
Marvin M'Toumo
Salomé Martin
Clémence Mauger
Ariidehav Michaud
Lauriane Norgiolini
S Paret
Louise Ronk-Senges
Damien Vongués
Dan Wu
by Richard Thomas, 2015 – 2016
I'm a sound recordist. It's a job that a lot of people don't even realise exists, but it's my job to capture the sync sound for picture as it happens. Most people assume 'doesn't the mic on the camera do this?', they assume that whatever the camera 'sees' can be heard- more often than not all the camera mic will pick up will be a distant perspective on the action with high background noise and any movement the camera operator makes will be very present. So, my job is to get microphones closer to the things we want recorded. But in an improvised performance, how do I know what we're going to want to record?
In my line of work I usually find that planning is really important to getting results; the more I know about what is happening, the more likely I'll have the tools and personnel to be able to cover and deal with a given situation. However another skill I often have to employ is improvisation: something will be changed at the last moment, someone will neglect to tell me something they didn't think was relevant and that can make a huge difference to me. I'll be constantly trying to second guess what's going to be thrown at me by people whose main concern is what something looks like. I'm also no stranger to improvisation in a more general artistic context- I've performed free improvised music for a number of years including work with artists in other contexts, such as dance and visual art. However, in this case I'm improvising more as a technician (which I'm possibly less comfortable with).
My first thoughts when Sonia approached me about this project were if and how the performance would be contained- how many performers there would be? What sort of sound they could be making? What the space would be like? All these questions were open ended so I packed kit for as many situations as I could think of happening and assumed (wrongly) that as the process went on that I'd have more of an idea what was going to happen during the performance and looked into where I could get additional equipment if required locally and the process emerged.
Over the two days before the performance, we started looking around the grounds at Villa Arson and found so many interesting spaces. I really enjoyed the brutalist aesthetic of the architecture, and also how its structure allowed green spaces and plants to grow in sections. I ended up taking far too many photos of the place… I also considered what impact each space would have on me being able to capture the performance, either looking at the amount of space available (the more restricted, the closer I could get microphones on stands and be able to cover the area adequately) and how much background noise there would be.
The day before we also filmed both Andy and Vania working with the students. To be honest, the things both of them were doing with the students were pretty much the scariest things I could imagine dealing with for something like this on a technical level: Andy's group were doing very low level dialogue – sometimes whispered to each other (and some of his group weren't the most extrovert of people either), while Vania's were climbing on top of each other. The reasons for this are that low level dialogue requires close microphones to pick it up, even if you were standing a few metres away you'd struggle to hear what the person is saying, and this is with your brain concentrating on them (see the 'cocktail party' or Haas effect) and microphones can't distinguish individual voices like your brain can. Personal microphones would need to be mounted on the body of the performer and could easily get moved/unstuck and pick up clothing noise easily, so adding movement with climbing on top of each other would limit what they would pick up.
So, when the performance (or "happening"?) began I decided to use as many personal microphones as possible on a variety of performers, mainly so we got a mixture of languages close up and one who said they had an idea based around a song. I also had a stereo microphone setup on a boom to capture a wider perspective. However, I still needed to have a portable rig and it was too late in the day to order in more equipment (let alone enough to have a microphone on everyone…). I had to make sure the microphones and radio transmitters were securely attached to the performers and wouldn't move, even when doing some physical things. Even after it had started I thought we may stop before moving location, however it didn't- I was stuck with this setup and had to improvise, running after the performers!
Afterwards, I thought that both through the aesthetic of the buildings and the nature of what the performers were doing that it did have a very 1960s experimentalist feel to it, where I imagine the students of, say Black Mountain College with John Cage and Merce Cunningham may have done similar things- they're reconsidering what can be considered art, music or performance and not letting things like training determine whether you're "allowed" to perform like this or not. It's the sort of environment which encouraged experimentation and allowed performance art to come into its own.
When I've worked with Sonia before I know she doesn't really mind seeing crew and equipment, also I think part of drew me to my job is my ability of avoiding photographs. I do like the fact that the 'workings' are revealed (and I'm also doing that here a little).
I'd still avoid being in frame as much as possible, although it's hard to avoid 3 cameras, there are also a few wireless packs showing, which isn't too surprising, given some of the movements the performers were doing and their clothes will move. In this case I don't mind, although feel a little self conscious, but on a different job I would!
Much later, when editing and mixing the audio afterwards I was generally pleased with what I got when cleaned up and re-cut together from all the individual microphones (it was too manic and unpredictable to get a good mix on location): I expect we were lucky, although there were some parts which had issues (Vania was very prominent in the library section and didn't have a personal mic, I had to use sound from the boom and camera mics to cover this as I couldn't be next to her all the time) and we didn't always have the options of a close perspective in some of the whispered sections when performers were not near a microphone.
Everything you hear in the installation was recorded during the performance, 'live'. There's an incredibly (biologically) intimate moment which came out of something which would normally be considered 'wrong': One of the performers' microphones gets pushed hard against their chest in the 'amphitheatre' section both muffling their voice but also picking up their heartbeat- I edited it in order to make this effect more prominent. It's the only thing in the piece that pushes the viewer into a more abstract, internalised perspective, although some of the whispered moments are very personal and although captured in a documentary style, doesn't necessarily fit with that perspective.
The final installation involved playing all the videos back in the same room at once and there's a wide dynamic range across them, with levels varying between whispers and shouts. We wanted to try and keep the intimacy of the quieter sections in the 'circle' and 'amphitheatre' videos so that they could be heard, while allowing the full chaos of the 'library' and 'battle' sections to be brought out. We came up with a sequence so that each of the videos runs for approximately the same time, however I expect it'll never be quite the same as they're all running independently, but at least all the loud sections shouldn't happen at the same time as the quieter ones
Hours
Opened every day from 2pm to 6pm, closed on Tuesday
January 30th to April 30th
Free admission
Access
Tramway : Line 1, direction Henri Sappia, bus stop Le Ray
Then, 10 mn walk, follow the posted signs in Paul Mallarède str. and Joseph d'Arbaud str.
Bus : n° 7 and 4, bus stop Deux avenues
Then, follow the posted signs av. Stéphen Liégeard – Villa Arson.
Highway A8 : exit N° 54, Nice Nord, direction Centre Ville, then, follow the posted signs Villa Arson
From the Promenade des Anglais : follow Bd Gambetta, then Bd de Cessole, then, follow the posted signs Villa Arson
Contact
Learning Department
+33 (0)4 92 07 73 84
servicedespublics@villa-arson.org